Who: CCAN Action Fund, and you!
What: People's Pipeline Protest: Three days of action at the Virginia Department of Environmental Quality's Woodbridge office in opposition to the Atlantic Coast and Mountain Valley Pipelines
When: September 13th & 14th, 12:00PM-1:00PM
Directions:
DEQ Office: 13901 Crown Court
Protest Location: 3294 Golansky Blvd (corner of Crown and Golansky). Golansky is a public street; Crown is not.
Parking: Lowe's, 133720 Smoketown Rd., Woodbridge, VA 22192
About a 14-min walk on public streets from parking lot to protest location. It may be possible to cut across the parking lot to the DEQ office and proceed down to the protest location.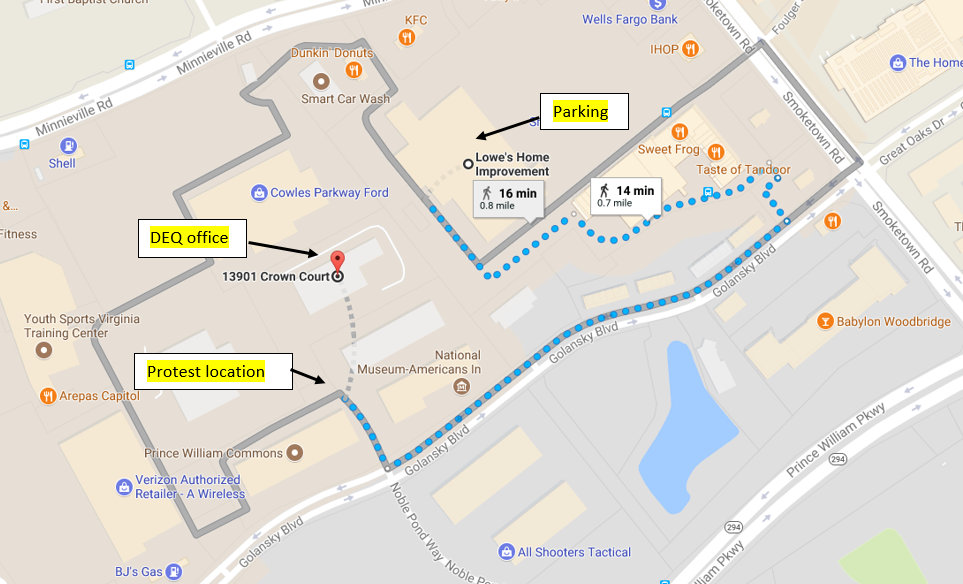 Contact at VDOT: Art Klos, (703) 366-2004
Restrictions: Don't go in street; don't put signs in the ground.